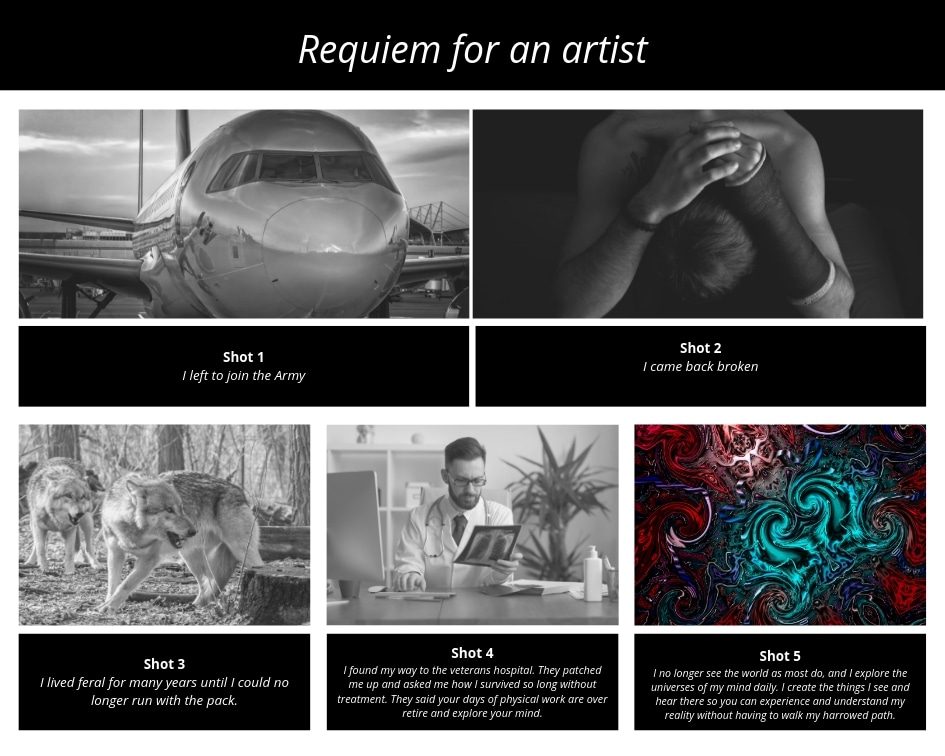 Meet the Artist – Mark Humes
Mark Humes turned to art as a way of expressing his experiences, feelings, and thoughts after a devastating realization. This artistic means of coping with a difficult time turned into a full-time venture as Mark began experimenting with digital abstract art. In all his creations, one can analyze the visual representation of raw human expression. 
After serving in the military, he was given the shocking news that he had limited job choices due to the physical and mental injuries he experienced during his time with the forces. This set Mark on a journey of self-discovery, as he looked for his purpose in life. He gradually turned to music to lighten his soul. 
Mark was a DJ and owner of Paladin Radio Wpal-DB—a joint collaboration with the CAMMO-Centre for Military Music Opportunity. He aimed to provide airways to military artists as a means to express themselves and use music as a healing medium. 
However, he soon realized that music and words weren't enough. He needed something else to truly express his inner demons and relentlessness to hope. This is when he turned to art and started to understand the therapeutic significance of colors and designs as he watched his artistic abilities come to life.
"It is the most natural thing for me to express what I feel through layers, colors, and shapes. With one work of art at a time, I offer a piece of my soul to the world with hopes that, in time, something of myself will live on in every patron of my art." – Mark Humes
Mark is a self-taught artist. His artwork nestles on the reality he experienced and continues to experience in his life. After experimenting with multiple techniques on paper, he found his preferred method – digital abstract art. 
The artwork of this brilliant digital abstract artist can be described as poetry and narratives in visual form. The vibrant colors and unique shapes he uses in the artwork evoke feelings of loss, hope, trauma, love, and unity. His artwork encourages viewers to experience life with an expansive and compelling perspective through his magical color movements. 
The raw texture in all the paints transforms the canvas into the physical representation of his deep emotions. The layers of Mark's work depict conflicted feelings of pain, sadness, and hope. However, looking more deeply, one can sense the appreciation of beauty and love. 
His work portrays survival, hopefulness, and resilience—the raw human condition of keeping strong and the willingness to keep moving despite the trauma and hardships. Mark uses colors and shapes as his language to share his stories and thoughts with the world. What emerges is an internal language that is not only personal and emotional but also universal, touching every human who witnesses the sheer beauty of each artwork.
Mark is the founder of Mark Humes Gallery in Fort Myers, Florida, where he displays his striking art pieces.
Bibliography
| | | |
| --- | --- | --- |
| Year | Title | ISBN |
| 2016 | Mindscapes | 978-1364332877 |
| 2016 | Mindscapes volume 2 | 978-1364284442 |
| 2016 | The Book Of Lost Verses:Book 1 | 978-1530599400 |
| 2016 | The Book Of Lost Verses:Book 2 | 978-1533638854 |
| 2016 | Creating The Lost Verses: An Adult Coloring Book | 978-1534740761 |
| 2016 | The Book Of Lost Verses:Book 3 | 978-1537259727 |
| 2016 | The Book Of Lost Verses:Book 4 | 978-1541215061 |
| 2017 | Codex Venerorum Abstracta | 978-1542340922 |
| 2017 | The Book Of Lost Verses :Book 5 | 978-1542950183 |
| 2017 | The Book Of Lost Verses: Book 6 | 978-1548089924 |
| 2017 | The Book Of Lost Verses: Book 7 | 978-1974575121 |
| 2018 | The Book Of Lost Verses: Book 8 | 978-1983802225 |